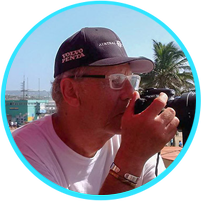 Patrick Flanagan;
A sample of my forty plus years working as a photographer and writer.
Almost every photograph on this site is available to purchase in a number of printed options. Email me at pat@breezehill.co.za
Commercial & Design
A full equipped studio for professional portaits, product and pack shots.
I also do layouts and take them right to finished art.
RAINBOW LAKES
CLICK HERE TO SEE THE SET
THE STUFF YOU'VE GOT TO WATCH
I'm equipped to cover commissions for studio and insitu photography and take any production to final art, ready to print.
In 1976, I found myself in the odd and precariously uncomfortable position of photo editor of Down the Line, a tabloid magazine edited and produced by Michael Tomson and Patrick Lee. My title sounded grandiose but in truth, it mean that I would spend many nights in the kitchen of my Botanic Gardens Road in the dark and with  Jenny, processing rolls of film and printing loads of black and white 8 by 10s.
I hope I never find out.
How long will it be before the difference between all top end cameras will be so small in increment that the brand wont actually matter?
The second World War was a watershed time for photography. War correspondents and shooters needed a smaller, more compact camera that used the newly invented 35 mm colour film and thus sprung the Leica M3 in the early fifties. This was probably the most important camera ever with the exception of its successor (as a pro camera) the Nikon F. The range finder was replaced by the first significant single lens reflex camera. These two were the forerunners to everything, or just about.
1. Refrain from reading mass media opinions on political issues and politicians. Because these conglomerates are really all about ratings and advertising income. And remember that politics is just a fucking merry go round with flawed self servers stepping on and off. An evil playground thing thats been switched on for generations.
PORTRAITS
I call them environmental portraits because a major element that I believe is vital to successfully getting the best out of the person thats being photographed is to put them in the place they feel the most comfortable. Mail me at pat@breezehill.co.za if you're needing a great set of pictures of yourself, your friends or family. If you're looking for more  a more formal studio based pictures, i can accommodate that as well. Click here for more https://patflan.co.za/environmental-portraits/
SURF PHOTOGRAPHY & STORYVILLE
Click on the Icons to access the stories and the pictures.
In my forty four years behind a camera Ive seen some lows. The worst was when this picture was taken in 2006. I was living in Joburg and hadn't been near the ocean for almost 5 years. I was in bad shape when Carl Roux my lifelong friend rescu
ed me by taking me to Indo on a surf trip.
Jupiter Hollow
I spend a fair amount of time in the KZN Midland Valleys and love shooting the pristine natural vistas up there. 
click here to view the gallery page.
Inspire, develop and mentor future generations of surfers through the celebration of our rich surfing heritage.